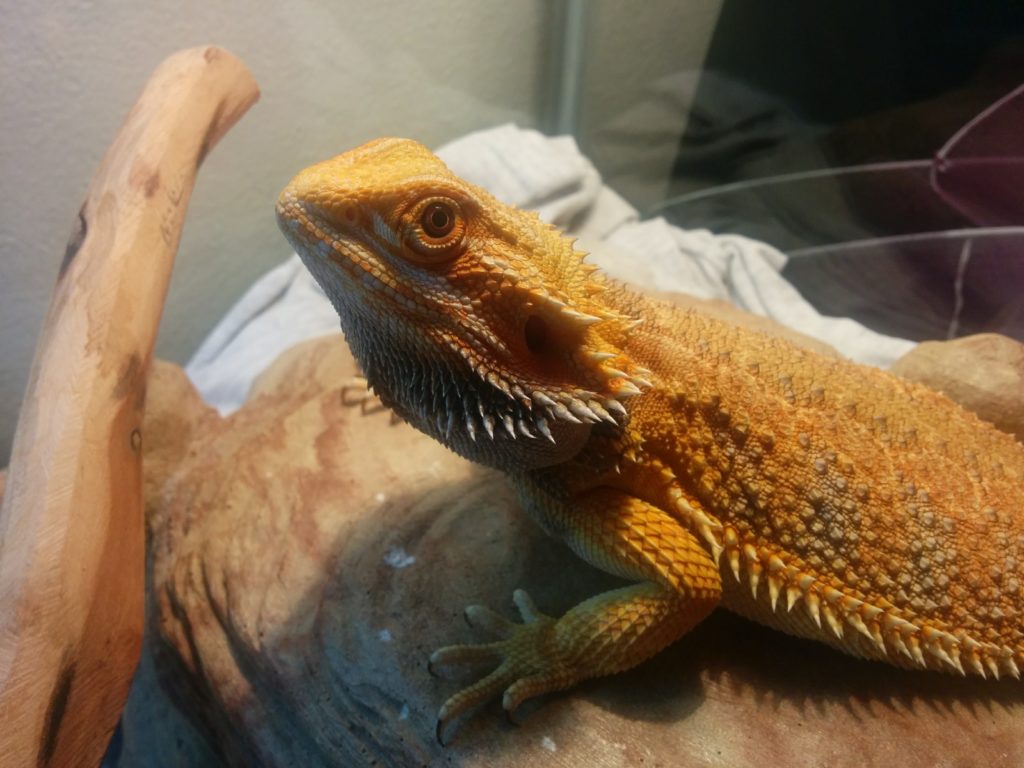 This is a post I was hoping I wouldn't have any reason to write for a long time.
Chrysanthemum, the bearded dragon, passed away suddenly on Sunday morning.
Her health had been troubled for a little over a month now. She was receiving treatment for several ailments that could have been the cause, and had been showing a lot of improvement. I took her to the vet on Saturday, who didn't detect anything wrong with her, though the blood test that was being done might show otherwise once the results get back. As such, it was very unexpected. She went from understandably stressed out for the day after her vet visit to unconscious and unresponsive when I checked on her on Sunday. We rushed her to the emergency vet in Bothell, who confirmed our fears. After determining that hospitalization would a) have less than a 5% chance of success, b) bankrupt me in four days, and c) even she did recover, she would likely have significant brain damage that would limit her quality of life, we decided to humanely euthanize her. It was one of the hardest moments of my life, but I hope she could feel me giving her a smooch on the head beforehand and holding her hand as they did it. I wanted her to know I was there for her until the end.
I didn't have the chance to know her long, only having the privilege of being her human for four and a half months. But she was wonderful every second, a total grumpy goofus who I loved to interact with, to feed and cuddle and have her ride around on my shoulder. She was also the best roommate, and I still can't look at her home without tears threatening to come.
We got the results of the necropsy (which is a dark word, come on vet industry) today, which indicated medical issues that weren't even on our radar. Her liver and gallbladder were both in incredibly bad shape, and she was essentially suffering organ failure. Peter and I talked over the results and we're guessing that it was a congenital thing, possibly neurological in nature given some of her other symptoms. While this doesn't make it any easier to lose her, there is a measure of comfort in knowing that it's highly likely there was nothing I could do. I tried to give her the best life I could, with delicious roaches and warm spots to bask in and time to explore the world outside her enclosure. In the end, that's the best I could have done for her, and I hope it made her happy.
I'm heartbroken she's gone so soon. Chrysanthemum and I had walked a long road to try and get her healthy again, and I was no longer as ready for something like this to happen as I was a month ago. I was looking forward to seeing her finish growing up, and getting to have her around for years longer. The time I had with her was wonderful, though, and I wouldn't trade it for the world.
I'll miss you, little girl. I hope wherever you are now, everything is beautiful and nothing hurts. That there's warm rocks and delicious hornworms and all the walls you could ever want to jump at and fall off in an attempt to climb them. That there's laundry piles to try to poop on and sheets to burrow under and go to sleep. I hope I get to see you again some day. Until then, know I love you, and I miss you, and I'd give anything to hold your little hand again.
Rest in peace, Chrysanthemum.