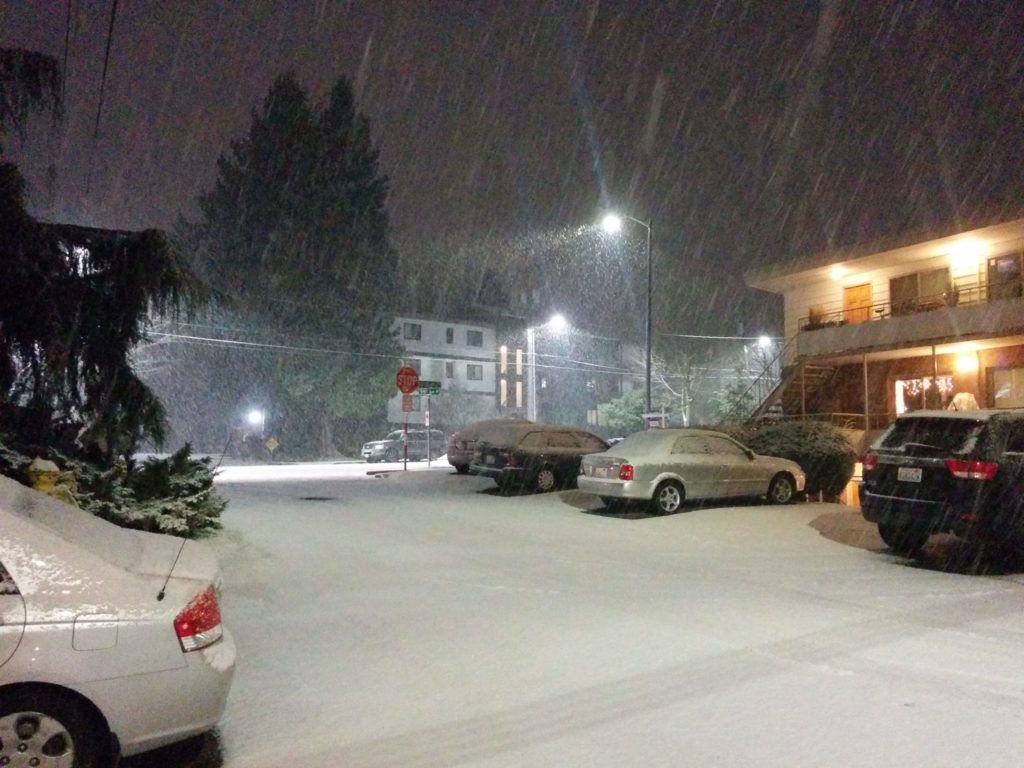 So, as you may have all noticed, it's winter! Weird. The dark days have me wanting to be a slug and stay in bed reading all day. Instead it's the end of term for school, so I'm beating my shoulder against the Door of Final Project Completion, being very grumpy about my professor, and dealing with the deluge of social demands that let you know 'tis the season.
Which, I mean, it isn't all bad! But it certainly hasn't been easy lately. But we're not here just for my bellyaching, but for sweet, sweet life updates. Or something. All two of you that read this. For example, the social stuff is generally pretty fun. There's just a lot of it.
* * * * *
It snowed the other night in Seattle, something that hasn't happened since the first year I moved here. (Okay, so it's only been three years and thus skipped last year. Not the point.) It was fun, and a nice change. It made the near-freezing weather we've been having on either end worth it, in a way. Plus, I got to throw a snowball and made a tiny snowman on my car at work the next day. 🙂
* * * * *
I'm looking forward to the end of this stretch of things, though. Once school's done there'll be a big weight off my shoulders. I managed to get it together for NaNoWriMo and finished that, but I've only done a tiny amount of writing since then. I'm looking forward to hopefully picking it back up, and getting back into editing my fantasy doorstop ("The Shivering Deeps" novel) and working on Nautilus again. Both of those projects have been going far too long without proper attention, and I'd like to wrap them up and put them to bed sometime soon. Or at least get them going to the next big steps in their development.
I've also been lacking on blogging (duh), uploading fiction to the web, and submitting fiction to market. I have a large handful of short stories essentially sitting in a digital drawer gathering dust. Time to fix that, soon, I think. Get each of them out to at least one more market. Once I determine which file actually has the final draft!
So I guess that's it for me for now. Down but not out, crawling my way forward through the proverbial snow towards the end of the school semester and a fresh start that'll hopefully let me start walking my usual way again soon.
P.S. More heavy stuff about the election results (guuuuh), some family stuff going on, and other such might happen soon. But not today, not yet.
P.P.S. Stay warm and safe out there, fight the good fight against the impending fascism, and love each other as much as you can. <3