Part 2 of the approximately 5 part series! You can see Part 1 here.
Again, books are in chronological order of when I read them and an * indicates an audiobook.
The Speechwriter: A Brief Education in Politics by Barton Swain*
This is one in a long line of "oh gods I need a new audiobook, what's available from the library right now?" reads. The Speechwriter was pleasantly surprising, though, as a funny and brief look into the writing room of a politician. (Turns out that the governor written about in the book is no less than Mark Sanford.) The degree to which the Governor is a dolt and makes random changes to his staff's well-done work is hilarious and frustrating in equal measures. A fun look at the day-to-day grunt work inside a politician's office.
How to Save a Life by Sara Zarr*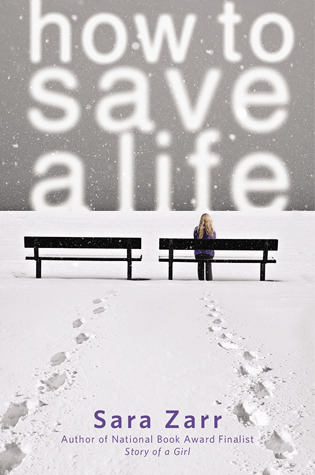 Another book picked mostly at random, this is a story about a teenage girl whose mom ends up fostering a teenage soon-to-be mother. The characters are all well-realized, and by the end of the book everyone is very sympathetic. Also has one of the best renditions of what it's like working in a bookstore I've ever read. A perfectly OK book.
The Unbeatable Squirrel Girl Vol 1: Squirrel Power by Ryan North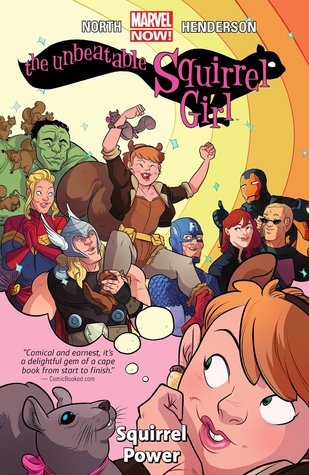 Ryan North + Squirrel Girl = insanely awesome. This comic is just madcap fun the entire way through, and there's even alt-text! I enjoy how not-seriously the comic's premise takes itself, too. Squirrel Girl is the best and I look forward to reading more of her adventures.
What Happens in Scotland by Jennifer McQuiston*
I wanted a romance audiobook, and hoo boy did I get it! McQuiston does a masterful job of making the setting feel real, but what I was most impressed by was how much agency the female MC had. It's refreshing to not have a romance MC who likes the man to make decisions for her. And the male MC is refreshingly NOT a total dick, although he does get (understandably) grumpy from time to time. The whole plot also resembles The Hangover by way of period romance, which works out even better than you'd think.
Wishful Drinking by Carrie Fisher*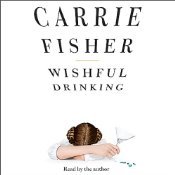 Carrie Fisher! This is a fun book, well, as fun as talking about addiction and a pretty rough life can be. But there's a ton of charming moments in here. The only flaw that I found was that the audiobook (as read by the author) is delivered in a bit of a stand-up comedy style. This makes sense, as this is a book version of one of Fisher's shows. But not having the energy of the room or being able to see Fisher makes it come off a little more "Aunt Carrie tells you an uncomfortable story she thinks is funny" than I think was intended. That said, if you can roll with that it's a good audiobook, and I'm pretty sure the paper version doesn't suffer this (relatively minor) issue.
Shadowshaper by Daniel José Older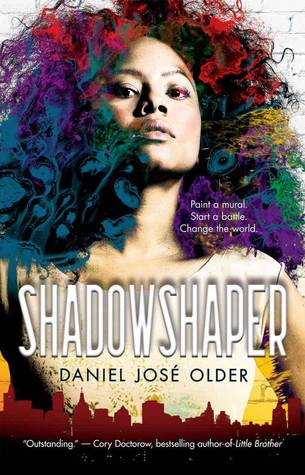 One of the best YA books I read all year. Set in an urban area that feels real and not like a TV version of such. The magic feels real, and I love its roots in non-Western belief systems. The whole book is a masterpiece, and a shining example of what urban fantasy could be if more people stretched beyond cloning Harry Dresden and Mercy Thompson. (Both of whom I love, but still.)
The Terrible and Wonderful Reasons Why I Run Long Distances by Matthew Inman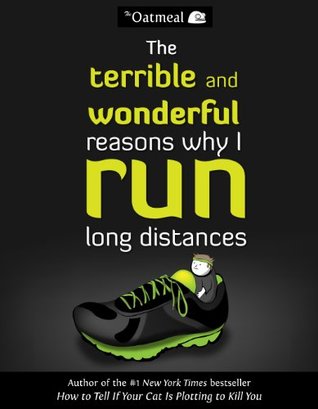 This was fun enough? I think I'd read the original comic on The Oatmeal already, so reading the book version didn't add much. IIRC, came off as a little preachy, but not so horribly I didn't want to read it. Comics about running! Yay?
Big Magic: Creative Living Beyond Fear by Elizabeth Gilbert*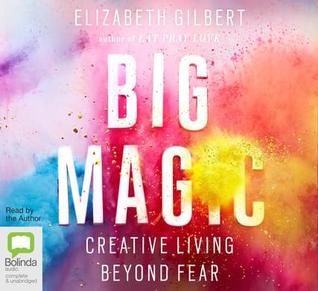 "Oh, the Eat, Pray, Love lady? I don't know if I'll like this." And then I liked it a whole damn lot, dear reader. To be fair, I'm a sucker for encouraging books about creativity. But Gilbert does a great job of being encouraging and giving advice while still accepting that everyone's life is different and we can't all travel around the world or having a magical writing gazebo. She's also a fantastic narrator on the audio version.
Rat Queens, Vol. 3: Demons by Kurtis J. Wiebe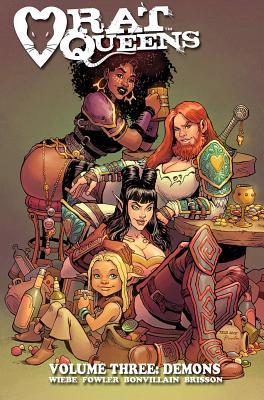 This Rat Queens volume features a new artist, which is good because it turns out the old artist was…not a good person, in some respects, to say the least. This volume of Rat Queens is perfectly solid, but I agree with the reviewer I read online who said that it didn't feel as tightly written as the previous two. Still, I really like the sense of humor the series has, and definitely want to read more. (If that ever happens. I understand the comic series has been having troubles, so who knows when/if a forth book will come out. Which double sucks, as this one ends on a cliffhanger!)
The Shadow Throne by Django Wexler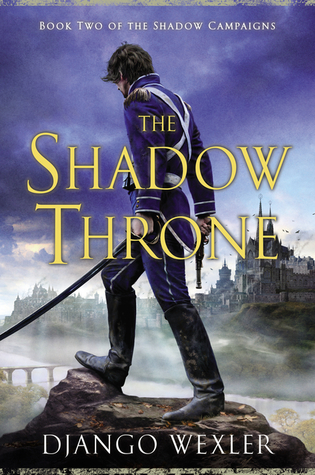 Django is a good buddy of mine, which made me nervous when I started reading his books. What if I didn't like them? And then it turned out they were awesome and everything was fine! The Shadow Throne is an interesting departure from The Thousand Names, leaving the desert behind for a city tale. I wasn't too sure about this at first, but getting to see more of Winter's past come to light, and an intrigue plot that was interesting and fun the whole way through. Plus there was military action still. I did miss a few characters from the first book (mostly Winter's sergeants), but they're primed to be around in book 3, so it's all good. Highly recommend this series, especially if you're in for a different kind of historical fantasy.
And that's it for part 2! What do you all think? Leave a comment on the site and get a(n imaginary) cookie!
PS All covers in this series are sourced from Goodreads. No copyright infringement intended, etc.